MediaRange Spray Can CD DVD Colour Photo Print Fixative Protection 400ml MR702
Protects inkjet printed CDs/DVDs/Blu-ray Discs, drawings, print-outs etc. against water, scratches and fading.
You will earn
8
points with this purchase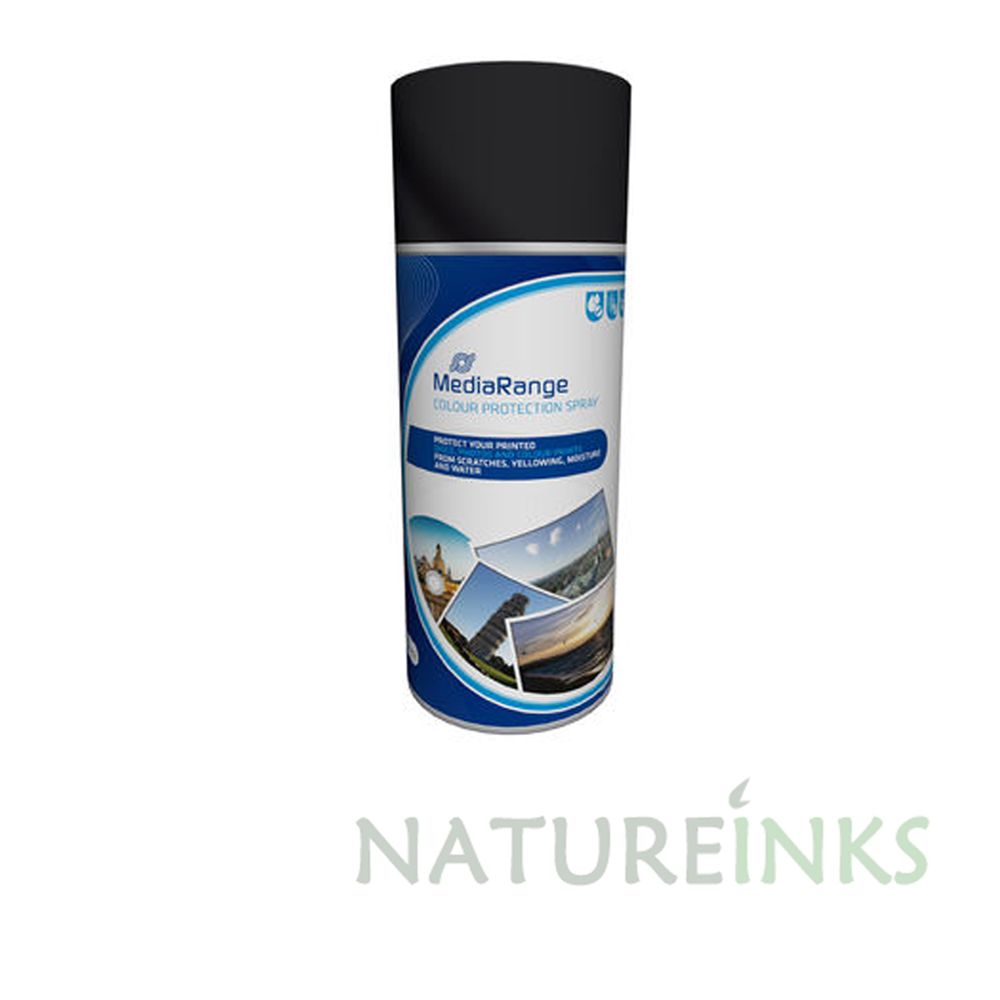 MediaRange Colour CD/DVD Protection Spray 400ml

MediaRange Color Protection Spray is perfect for sealing your printed CDs, DVDs, BDs as well as other color prints. Your images are protected from moisture, water, scratches and yellowing.


FEATURES

Content 400ml
Packaging Spray Can
Protects against water, scratches and yellowing
Permanently preserves your images without fading

APPLICATIONS

Preserving your printed CDs, DVDs, BDs and other printed images
Protecting your prints from moisture, water, scratches and yellowing
How to use :

1. Shake vigorously before use
2. Lay the disc down on a clean, flat surface and spray from a distance
of 30 cm. A few thin coats on the top of each other give the best
result.
3. Dries after +/- 3 minutes
4. After use, turn can upside down and spray until only gas
escapes



Operating and Safety instructions:

DANGER - Extremely flammable aerosol
Pressurised container: May burst if heated
Causes skin irritation
May cause drowsiness or dizziness
Toxic to aquatic life with long lasting effects
Contains: Hydrocarbons, C7-C9, n-alcanes, iso-alcanes, cycloalcanes; Acetone
If medical advice is needed, have product container or label at hand
Keep out of reach of children
Keep away from heat, hot surfaces, sparks, open flames and other ignition sources
No smoking when use
Do not pierce or burn, even after use
Do not spray on an open flame or other ignition source
Use only outdoors or in a well-ventilated area
Call a poison center or doctor/physician if you feel unwell
Protect from sunlight
Do not expose to temperatures exceeding 50 °C
Dispose of contents / container as special waste
Operating and Safety instructions
Not rechargeable. | Do not dispose of in fire. | Do not open.
Please make sure that you use the correct size and type of the battery specified by the manufacturer of your device.
Please make sure that the batteries are inserted with the correct polarity. Plus (+) and minus (-) pins are marked both on our batteries.
Remove batteries from the device when it is not in use for several months.
Store batteries in a dry place at normal room temperature.
Do not use batteries in extremely hot or cold areas. Extreme temperatures reduce the battery performance.
In case a Battery has leaked, perform this with safety in mind and avoid skin contact and dispose the battery in correct way (See disposal).
Disposal
Disposal of old batteries: This device is subjected to the European Directive 2006/66/EG. All the old batteries must be disposed separated from household
garbage through the government agencies designated for that purpose. By disposing the batteries in this prescribed manner, you can avoid environmental damages.
No reviews have been left for this product, be the first to
leave a review