50 Taiyo Yuden JVC CMC PRO Gloss PRINTABLE WATERSHIELD Blank DVD-R 16x 120min DVD disc
Genuine Taiyo Yuden CMC PRO Gloss RINTABLE Blank DVD-R 16x WaterShield . Pro series .
You will earn
32
points with this purchase
50 Genuine TAIYO YUDEN WHITE FULL FACE GLOSS PRINTABLE 16x DVD-R WaterShield
JVC/Taiyo Yuden blank DVD-R media has been the exclusive choice of professionals since recordable DVD technology came to market. CMC Pro (Powered by TY Technology) DVD-R media is manufactured to Taiyo Yuden's strict specifications and quality control standards, and is a perfect fit for professionals that require the lowest failure rate, highest playback compatibility, and superior printable surfaces.
Unlike normal inkjet discs, WaterShield is extremely water resistent, scratch resistant, and features a high-gloss finish. WaterShield blank media is the best way to ensure your discs stay protected from harsh everyday elements. Along with the added durability, the high-gloss finish produces an incredibly vivid print.
WaterShield DVD-R media is available in both a white and silver surface. CMC Pro blank media is compatible with almost every type of duplication equipment on the market. The integrity of your data is extremely important, so don't settle for anything less than the superior quality of CMC Pro Professional DVD-R media.
CMC Pro - Powered by TY (Formerly JVC Taiyo Yuden DVD)
Highly recommend this media as being the most compatible and problem free 16x DVD-R available.
Taiyo Yuden's 16X speed DVD-R disks provide professional quality and feature a WHITE FULL FACE INKJET PRINTABLE TOP SURFACE.
These are what professional duplication houses use !
This is the 'full-face' printable version of the MediaStar Taiyo Yuden 16x DVD-R. The discs have an inkjet printable top surface which covers the top surface of the disc.
This extraordinarily versatile 16X DVD-R media can be used with all the new higher-speed DVD writers as well as older upgraded 2X writers.
Top-Notch Performance Reliability and Archival Life!
Taiyo Yuden 16X DVD-R disks offer 4.7GB of write-once storage capacity and superior recording quality.
They provide the highest level of performance, reliability, and archival life.
In addition, Taiyo Yuden DVD-R media deliver broad read compatibility with the vast majority of DVD-ROM drives and DVD-Video players in use today.
These affordable 16X DVD-R discs offer exceptional solutions for a wide range of applications, including home and professional video recording, DVD content development, DVD duplication, PC back-up, and data archiving.
Manufacturer: CMC Pro - Powered by TY
NOTE: These discs are WHITE FULL FACE INKJET GLOSS PRINTABLE DVD-R 16x
Note to Consumer: JVC/Taiyo Yuden stopped manufacturing its high-quality DVDs and CDs on 12/31/15.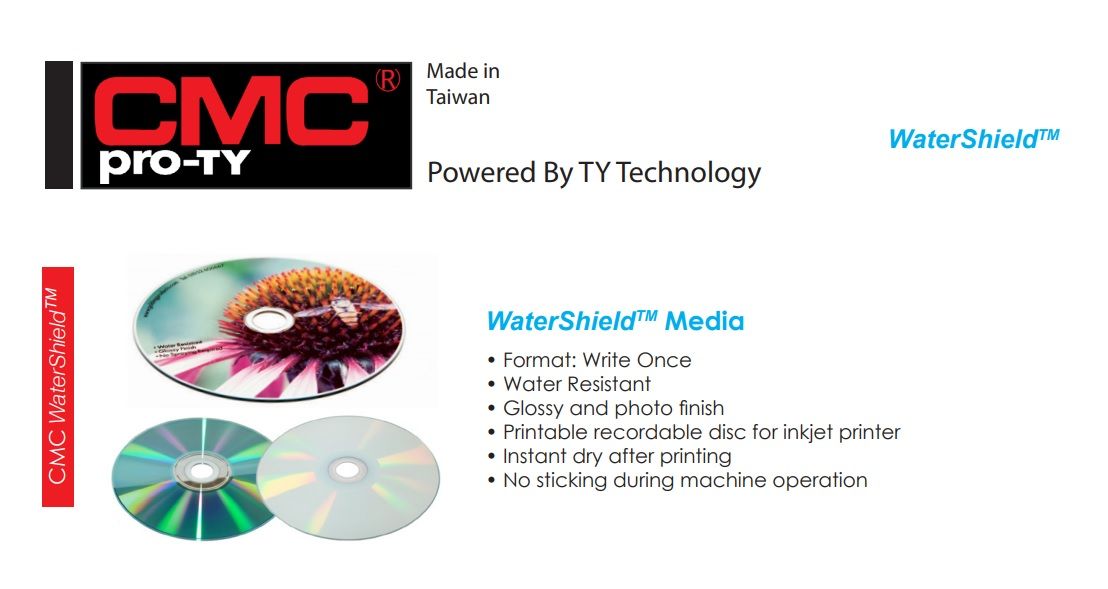 No reviews have been left for this product, be the first to
leave a review