25 JVC Taiyo Yuden CMC PRO Gloss PRINTABLE Blank WATERPROOF DVD-R 16x Speed 120min discs
(1)
Genuine JVC Taiyo Yuden CMC PRO PRINTABLE Blank DVD-R 16x . Pro series . WHILE STOCK LAST!
You will earn
13
points with this purchase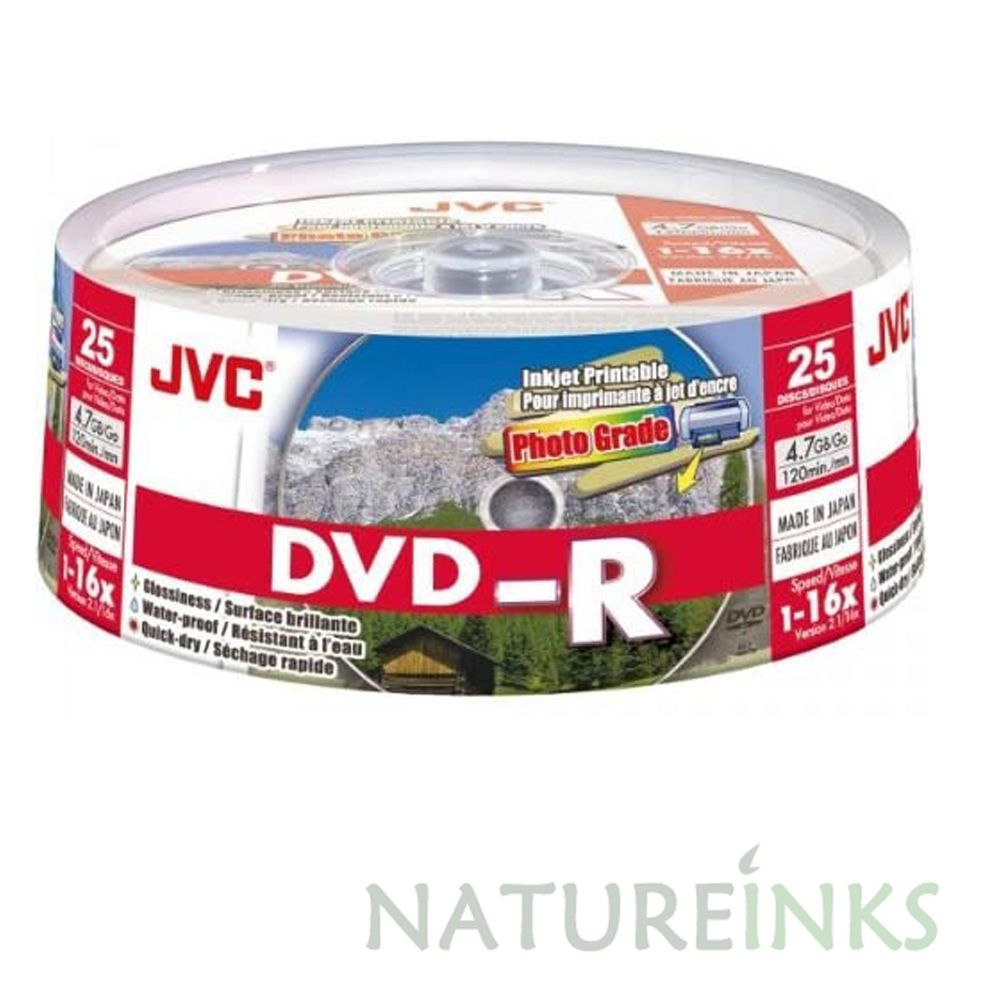 25 Genuine JVC Taiyo Yuden CMC PRO Gloss PRINTABLE WATERPROOF Blank DVD-R 16x Speed 120 min discs
CMC Pro - Powered by TY
Highly recommend this media as being the most compatible and problem free 16x DVD-R available.

Taiyo Yuden's 16X speed DVD-R disks provide professional quality and feature a WHITE FULL FACE INKJET PRINTABLE TOP SURFACE.

These are what professional duplication houses use !

This is the 'full-face' printable version of the MediaStar Taiyo Yuden 16x DVD-R. The discs have an inkjet printable top surface which covers the top surface of the disc.

This extraordinarily versatile 16X DVD-R media can be used with all the new higher-speed DVD writers as well as older upgraded 2X writers.

Top-Notch Performance Reliability and Archival Life!

Taiyo Yuden 16X DVD-R disks offer 4.7GB of write-once storage capacity and superior recording quality.

They provide the highest level of performance, reliability, and archival life.

In addition, Taiyo Yuden DVD-R media deliver broad read compatibility with the vast majority of DVD-ROM drives and DVD-Video players in use today.

These affordable 16X DVD-R discs offer exceptional solutions for a wide range of applications, including home and professional video recording, DVD content development, DVD duplication, PC back-up, and data archiving.

Manufacturer: CMC Pro - Powered by TY

NOTE: These discs are a 16x Speed WHITE FULL FACE INKJET PRINTABLE DVD-R.
Note to Consumer: JVC/Taiyo Yuden stopped manufacturing its high-quality DVDs and CDs on 12/31/15.
The good news is that these CMC Pro - Powered by TY premium white inkjet printable DVD-Rs are now available. "Powered by TY" means that CMC manufactures these DVDs using authentic Taiyo Yuden dye material and manufacturing processes, the technology behind the Taiyo Yuden blank DVDs that for years set the quality standard for all blank discs. Once all our JVC/Taiyo Yuden products are no longer in-stock, equivalent "Powered by TY" products, like this one, will replace them. Please feel free to contact us with any questions!
About Powered by TY products

The Taiyo Yuden brand is known to professionals for its virtually nonexistent failure rate and universal player compatibility. Normally sold in large quantities to professional disc publishing houses, these discs are available to everyone in small and large quantities at MediaSupply.com. Taiyo Yuden manufactured the first CD-R disc. As one of Japan's largest chemical companies, Taiyo Yuden worked with Sony and Phillips to produce the dye material that stores the data on CD-Rs. Later, Taiyo Yuden used its experience with optical media to develop high-quality recordable DVDs. Today, these Powered by TY DVD-Rs feature this proven Japanese dye technology.
Great quality - Genuine Taiyo Yuden!
Taiyo Yuden media has always been regarded as some of the best available, next to Verbatim. The media code for these JVC discs is TYG03, and they're made in Japan.
The discs have a textured, glossy surface. The texture might put some people off who expected their discs to be smooth. I wish this was made more clear on the cakebox packaging. The printing quality however, looks lovely. And it's clear that they're strong discs.
The price is also incredibly reasonable, two cakeboxes being about half that of one Verbatim glossy printable cakebox.
Billy | West Midlands | January 2022